Rocket.Chat is a free and open source self hosted chat server that allows you to easily keep in contact with friends, family, colleagues, or customers. In this guide, we'll be installing Rocket.Chat on a CentOS 8 Cloud Server using the Snap package.
Prerequisites
A Cloud Server running CentOS 8
Access to the root or admin user
Install Rocket.Chat snap
As CentOS does not include snapd out of the box, we'll first have to install it with dnf.
dnf install snapd
Enable snapd.
systemctl enable snapd
Start snapd.
systemctl start snapd
Install Rocket.Chat with snapd.
snap install rocketchat-server
Open tcp port 3000.
firewall-cmd --permanent --add-port=3000/tcp
Reload firewalld.
firewall-cmd --reload
Configure Rocket.Chat
Next, we'll configure Rocket.Chat in the web interface.
SSH Tunnel
Rocket.Chat requires you to access your server from the local network for initial setup. We can get around this with an SSH tunnel. If your local machine is a Mac or Linux-based, create the tunnel by running this command from your local machine's terminal, replacing with your cloud server's IP address:
ssh root@ -L 8888:localhost:3000
If you are running Windows, the most popular way to run SSH is using the free PuTTY tool which can be downloaded here.
Configure Rocket.Chat
Once you have your ssh tunnel in place, navigate to http://localhost:8888 in your local web browser.
Go through the prompts to create your account and register with Rocket.Chat if you choose.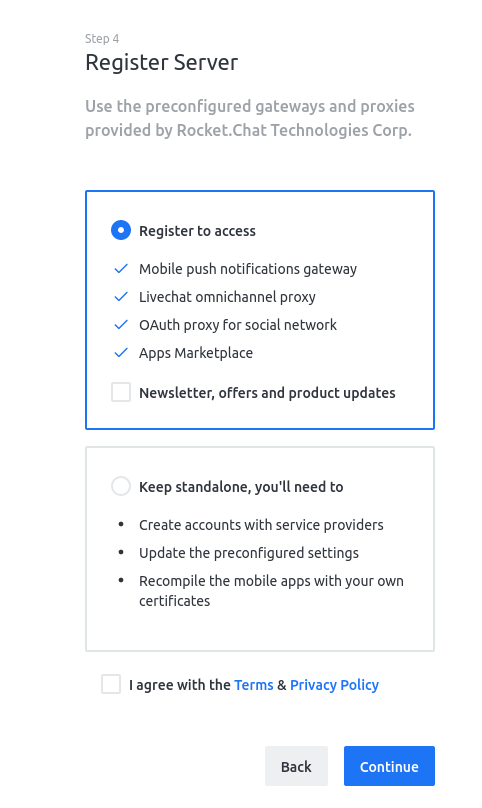 Once done, you can access your Rocket.Chat instance at http://:3000 or via one of the Rocket.Chat clients found here.