Plex is a popular free media server that allows you to organize and stream your movies, shows, music, and photos. In this guide we'll step through how to install Plex on a Cloud Server, making the media available from any remote location.
Download and Install Plex
Download Plex from here.
Once downloaded, run the executable. An installation window should appear. Click Install.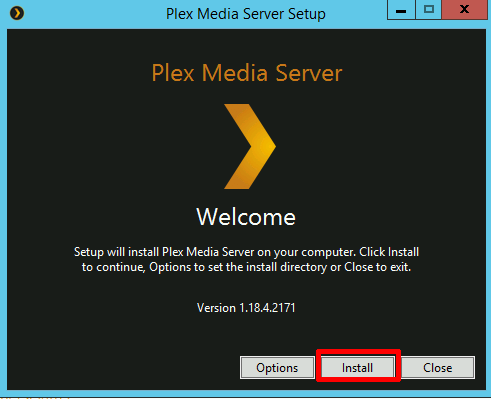 Once the installation is complete, restart your server.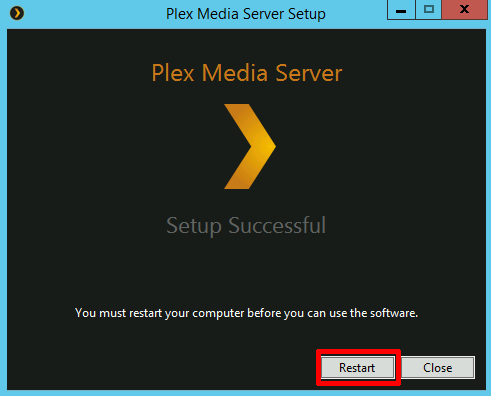 Create your Plex account
Once the SSH tunnel is set up, navigate to your Plex setup page at the following address in your browser: http://localhost:8888/web
If you already have an account, you can skip this step and just sign in. Otherwise, click CONTINUE WITH EMAIL.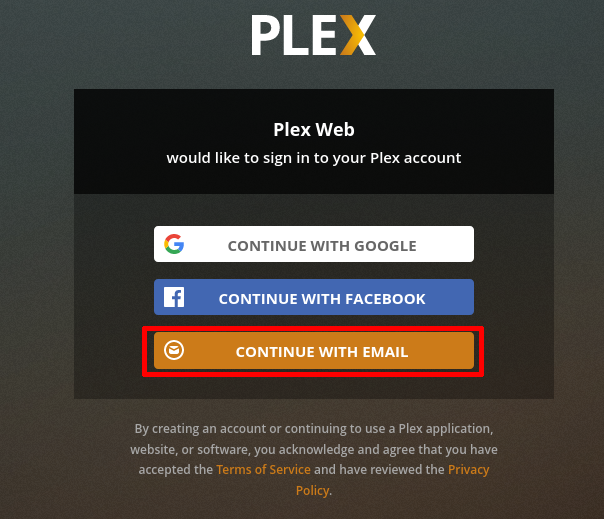 Click sign up with email and create your account
 
Set up Plex
After creating your account or logging in, you'll be redirected to the setup wizard.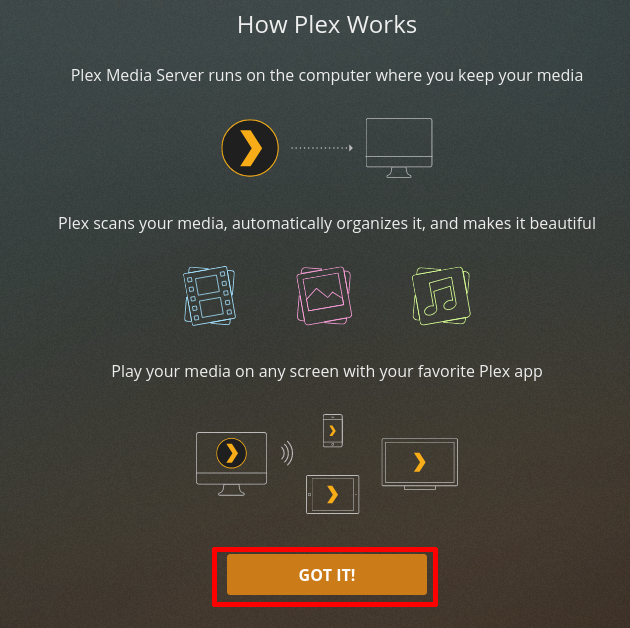 On the next page you'll be asked to purchase a Plex Pass. Simply click the "X" in the top right corner if you don't want Plex Pass.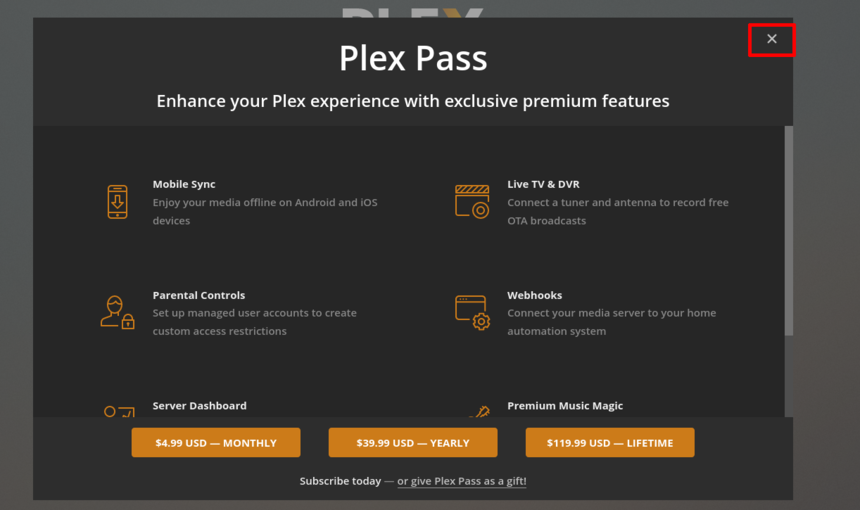 Give your server a name and make sure you leave the Allow me to access my media outside my home box ticked like in the screenshot.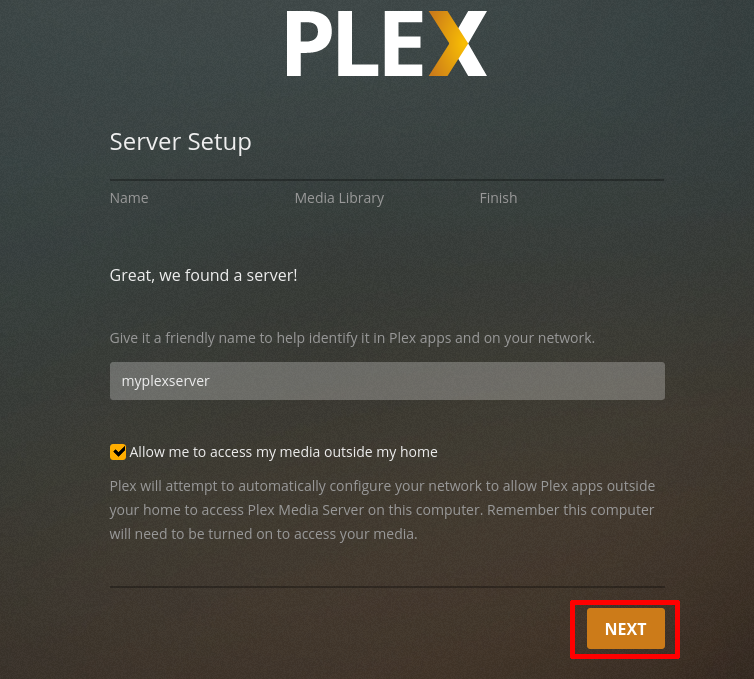 For now, skip adding a library and click NEXT: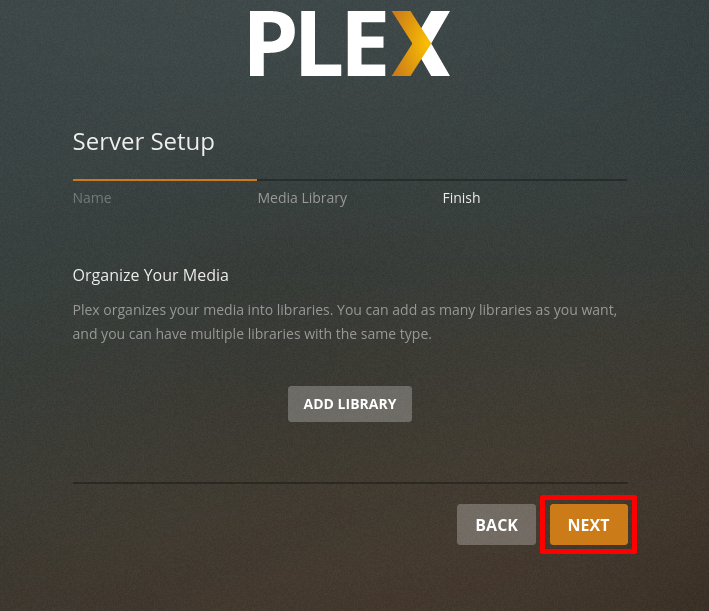 Click DONE to finish the setup.
Customize your navigation menu to your liking and click FINISH SETUP: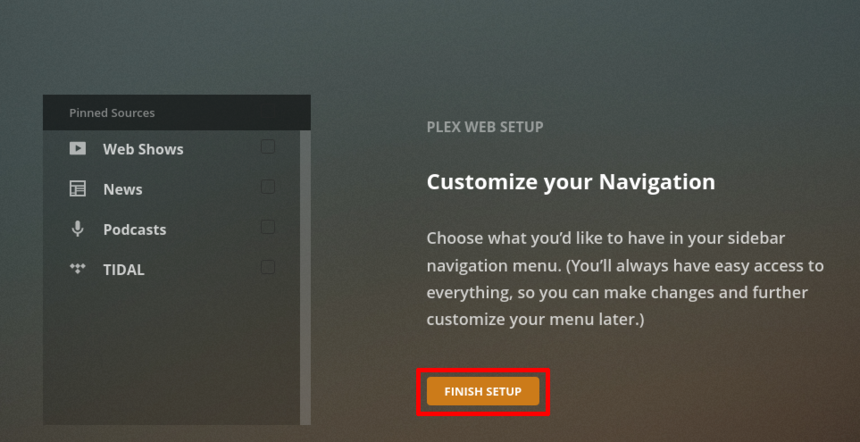 Create library directories
Back on your Cloud Server, we'll create a movies library in the default location. You can also create a shows, music, or photos directory at this time. The library directories can be created anywhere the plex user has read access to, but we'll use the default location of "/var/lib/plexmediaserver/Library" in this guide.
mkdir /var/lib/plexmediaserver/Library/Movies
Add libraries to Plex
Now that the directory is created, we can add a library. Back in your browser, click on MORE.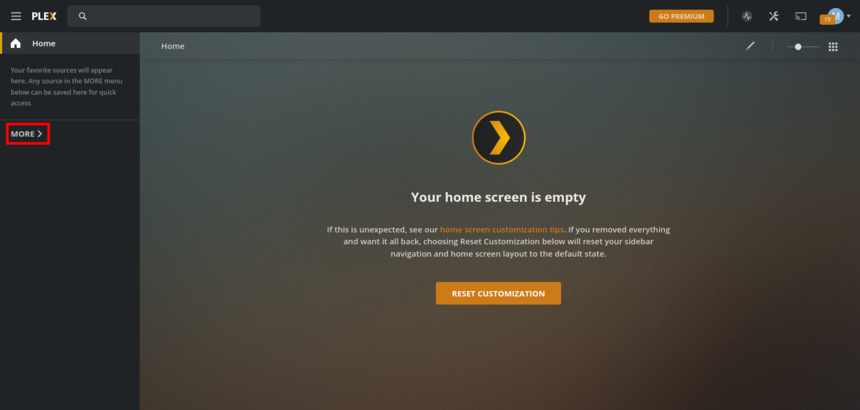 Click your Plex server name.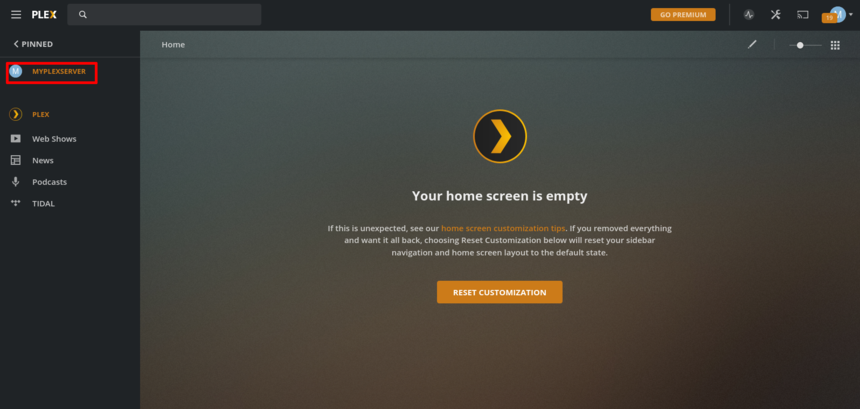 Click MANAGE LIBRARIES.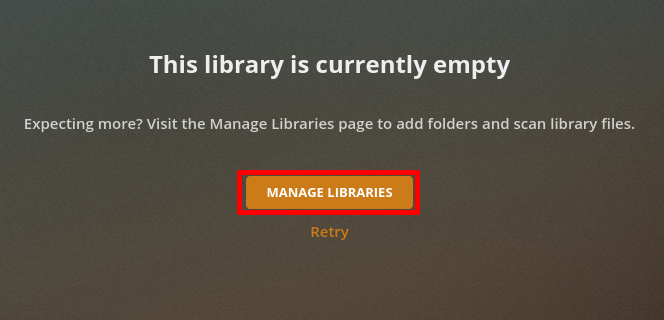 Click ADD LIBRARY.

Choose the library type and name it. Something simple like Movies will work. Click NEXT.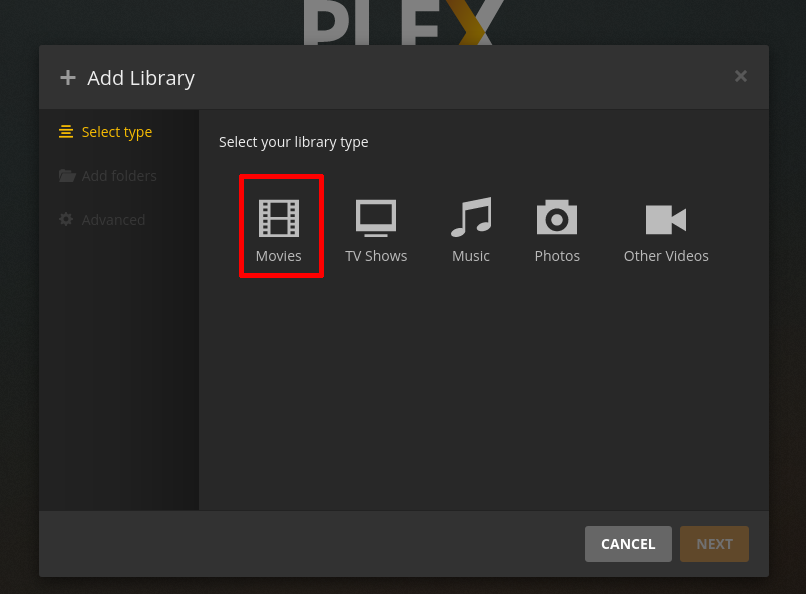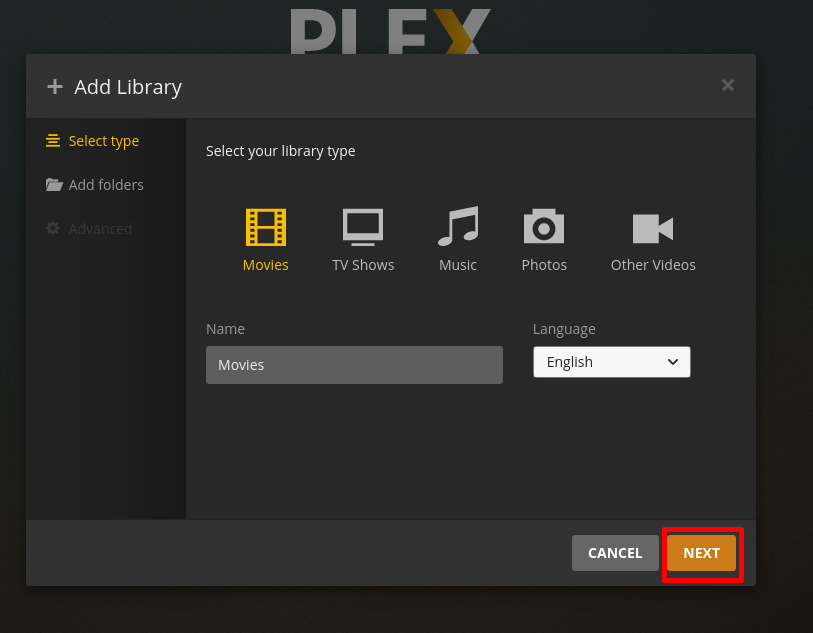 Click BROWSE FOR MEDIA FOLDER and navigate to the library directory you created earlier.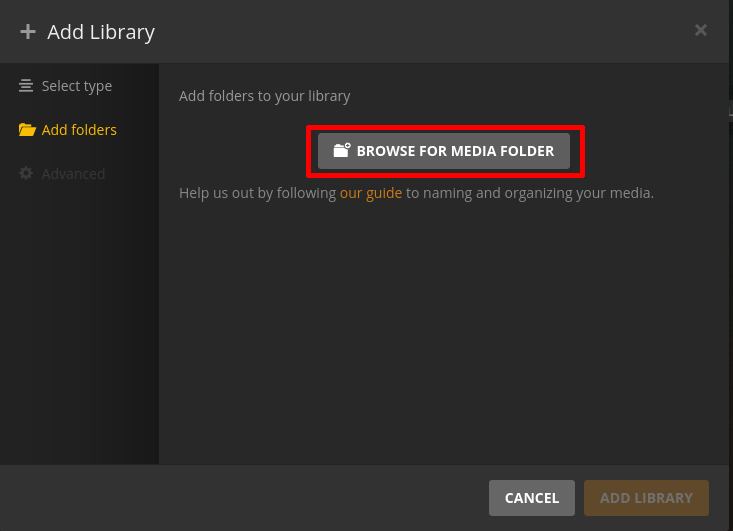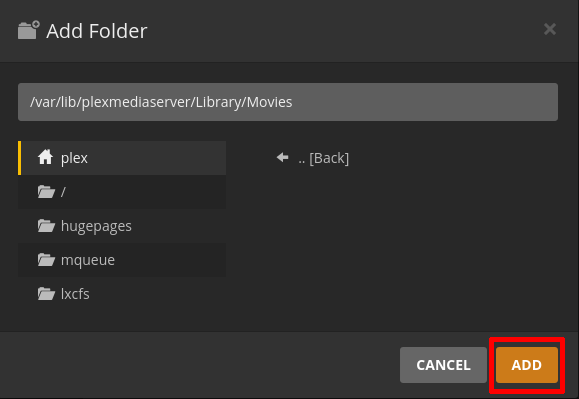 Finally, click ADD LIBRARY.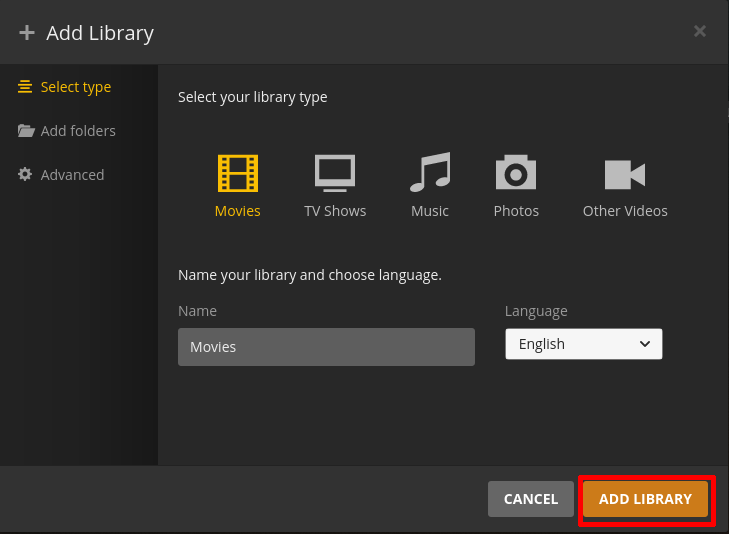 Add Media to Your Library
The easiest way to upload your media is with FTP.
These two Plex support articles will show you how to properly organize your media so Plex can understand it and fetch the proper metadata:
Movies: https://support.plex.tv/articles/naming-and-organizing-your-movie-media-files/
TV Shows: https://support.plex.tv/articles/naming-and-organizing-your-tv-show-files/
Once you've added your media, you'll need to scan your library files before Plex will see them. Do this by clicking on the three dots next to your library and clicking Scan Library Files: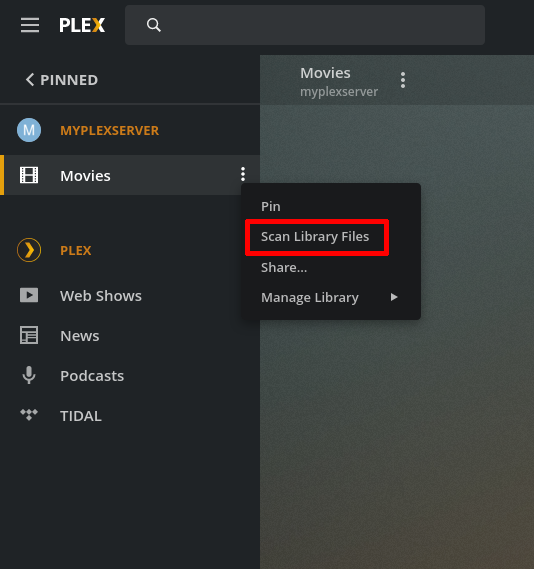 Enjoy Your Media!
Congratulations! Everything should be working at this point. Now you can enjoy your media with one of Plex's client apps or by navigating to app.plex.tv in a web browser.